The #1 Auto Body Shop in Simi Valley - Voted "Best Auto Repair & Body shop in Simi Valley" by the Daily News!
Since 1986 One of the Largest and Best Equipped Repair and Paint Facilities in the San Fernando Valley!

*New!
On The Crash Doctor's Main Multi-Media Site In GlobalVizion's Panascreen

1975 Classic Mustang Collision Rust Repair and Paint Refinish Video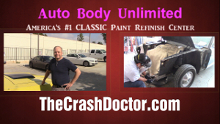 Corporate Commercial Service Vehicle Auto Body Repair Paint Review Video
Commercial Service Vehicles Collision Repair Paint Video
Small Dents to Major Collision damage including Aluminum Welding and WRAPs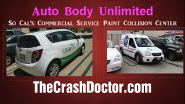 1960 Chevy Impala Classic Car Paint Refinish Consumer Review Video

Simi Valley's Corporate Fleet Commercial Auto Body Collision Repair Center Video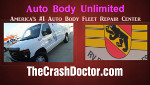 2 New Auto Body Financing Plans Now from Dr. Jay


1999 Honda Civic Collision Salvage Repair Review Video


Custom Car Body Kits Video
High Quality at Discount Prices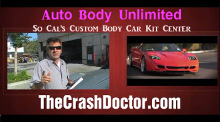 HOW TO Custom VIDEO Channel
Have you done the Mechanical work and are now ready for the Body and Paint?

Gallery of Specialty Services Section
See some Unique Special Services Dr. Jay does that other shops won't and can't do!
- and -
2001 Corvette Extreme Fiberglass Body Repair
and Paint Consumer Review Video

Dr. Jay New consumer auto body Video Tip #5
'Shop of Choice' on main Multi-Media site

1969 Chevy Camaro SS V8 Muscle Car Restoration and Review Video
*Watch on TheCrashDoctor.com's Main multi-media site

*Video Updates from Dr. Jay's Corvette Center
All Video Updates are available on ABU's Main Multi-Media website

Watch a 1978 Silver Anniversary Corvette Complete Paint Review Video

Watch the latest in a rare 2011 ZR1 Corvetter Carbon Fiber body repair Video

Watch Dr. Jay's latest 2008 Winnebago Journey Motorhome Fiberglass Repair and Paint Video
and Visit
ABU's RV and Motorhome Section Mobile Cell Website


The Crash Doctor Dr. Jay specializes in Corvettes and Fiberglass work to custom restorations. Dr. Jay also performs
Paint and dent repairs on RVs and Motorhomes as well as complete paint jobs and collision repair services on Fleet cars, vans and trucks.

Visit Auto Body Unlimited Inc.'s Main Multi-Media Website to view a large array of Videos from all types of repair, paint and restoration jobs! Keep in mind that TheCrashDoctor.com is a Multi-Media site requiring sufficient bandwidth so be sure your mobile or hand held device can handle it and be aware there may be extra charges by your service provicer for the increased bandwidth to wathc videos on sites containing multi-media content.

Just Click to Talk to Dr. Jay Now!